A car accident can be a traumatic experience, and dealing with repairs as well as medical bills can be stressful.
Fortunately, the attorneys at Corbridge Law Offices, P.C., have experience dealing with all kinds of automobile accidents.
We make sure that insurance companies are held accountable, whether it was a simple parking lot collision or a DUI accident.
Car Accident Lawyers: Importance of Legal Representation After an Accident
Have you recently suffered injuries due to the negligence of another driver?
Were you in an Uber or Lyft when you were in an accident? Injuries and time away from work can result in a significant loss of income.
Many accident victims are unaware of their rights and the deadlines involved in insurance claims. When our attorneys handle the paperwork, you can focus on getting your life back in order. Our team can collect police reports and other important documentation to support your claim. If there's a loss of wages, we'll contact your HR department and manage all communications.
A car accident lawyer can help you as you work on getting healthy. From contacting the insurance company to recovering damages for your vehicle to managing medical bills as they come in, we will handle all administration and management of your accident as you focus on getting well and back to your life.
Missed deadlines and incomplete paperwork can make it much harder to get the compensation you deserve. Trust the professionals at our law firm, and we will make sure that all of the paperwork is in order and submitted on time.
Testimonials From Auto Accident Victims
"No one ever plans on needing legal help, but I was lucky to have turned to Ryan Corbridge. Through what turned into a 3 year battle with my own insurance company, they completely exceeded my expectations and made sure my interests were protected. Thanks to their dedicated approach, we won our case handily! I would fully recommend them for any legal needs if you ever need it. I am thoroughly impressed and satisfied!" – JS
"I have never worked with an attorney who actually answers his phone, spends time talking to me about an issue, and thoroughly explains my options like Ryan does. I have found Ryan to be direct, honest and absolutely trustworthy. Ryan displays a sense of humor and sensitivity, and does not make me feel silly or unintelligent. He has surrounded himself with a team of knowledgeable and hardworking professionals." – DE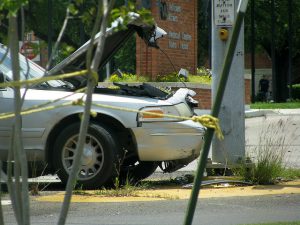 Experience With All Types of Accidents
We are capable of providing representation for a variety of collision-related incidents, from fender benders to catastrophic crashes.
Common Causes of Accidents:
Excessive speeding
Drunk driving
Texting and distracted driving
Road hazards
Failure to adjust to road conditions
Failure to follow traffic control devices and failure to yield the right-of-way also lead to collisions.
Whatever the circumstances of your case, we have seen it before. When it comes to getting just compensation for your injury or vehicle damages, it pays to have an experienced lawyer on your side.
Our lawyers have years of experience and extensive training in handling these types of claims. In addition to their experience as auto accident attorneys, the members of our legal team have worked in several related fields. They've served as law clerks, law journalists, research assistants, and as medical field professionals. Two of our partners have even served as district attorneys. This background gives our team a 360 view of the cases we handle.
Corbridge Law Offices: Expert Auto Accident Lawyers
Our compassionate auto accident attorneys are devoted to providing you with customer satisfaction and reliable legal representation. Give Corbridge Law Offices, P.C. a call to discuss your recent accident and to set up a consultation. When it comes to dealing with auto insurance companies, time is of the essence.