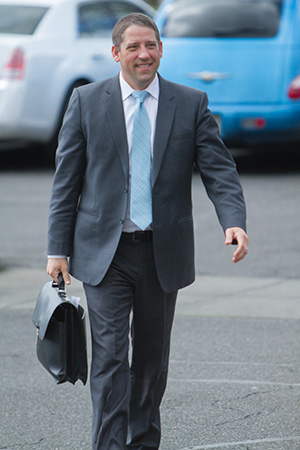 Being charged with a crime is one of the scariest situations a person can face. From worrying about potential jail time, potential fines, and a criminal record, a defendant no doubt has many questions and concerns about these charges. During this time, having a strong Portland Criminal Defense Lawyer in your corner can be invaluable. The peace of mind of knowing that your case is in experienced hands can be key to getting through this and achieving the most successful outcome possible for your particular case.
Similarly, being involved in a serious accident can be an extremely difficult situation. The bills pile up, the insurance company drags its feet, and a person is left wondering if they will get the compensation they need. Our Portland Personal Injury Attorneys fight to get you the compensation you deserve after a serious accident. We make sure your bills are paid, we make sure the insurance company treats your fairly, and we make sure you are made whole after an injury accident.
At Corbridge Law Offices, P.C. in Hillsboro, OR, we strive to provide a strong, experienced representation to our clients no matter what charges or injuries they may face. We are committed to providing our clients with the best representation possible, ensuring that their case is given the attention it deserves. We understand that this can be a difficult time in your life when you have lawsuit against you or a loved one faces and we assure it is our highest priority, as well.
We will immediately begin investigating the facts of your case. We will contact any witnesses, examine physical evidence, and work to build the strongest case possible. No matter what charges you face or the types of injuries you have suffered, we will listen with compassion and understanding, not judging or looking down on the client. We will make sure that your rights are respected and that you get the vigorous representation you deserve.
We believe that everyone deserves high quality representation regardless of their charges, regardless of their injuries, and regardless of their finances. Simply because a person is on a limited budget does not mean they should be forced to settle for budget representation or a low quality attorney. We will work with you and your family to negotiate an agreeable fee structure based on the seriousness and complexity of your case.
Hourly or flat fees may be arranged for criminal cases, and some payment plans can be negotiated, depending on circumstances. Most criminal cases handled by our criminal defense lawyers are done on a flat-fee basis, as experience has shown that it winds up saving the client substantial costs over the long run. We will work diligently to find a number that works for both parties to ensure there are no surprises or hidden costs. For personal injury matters, we work on a contingency fee, meaning we don't get paid unless we collect. This means there is no financial risk whatsoever by working with our personal injury attorneys.