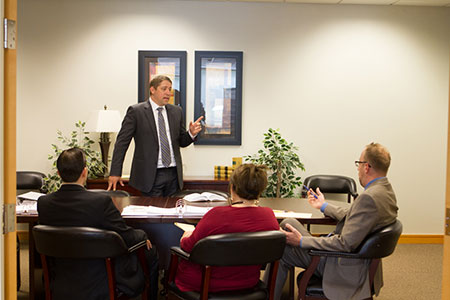 If you or a loved one have recently been arrested for a DUI, you may not know where to turn for help. DUI and DMV court proceedings can seem intimidating, and you may be afraid that you'll be judged harshly for a bad decision. At Corbridge Law Offices, P.C., we will work hard to make you feel comfortable when you come in. Our attorneys have years of experience in DUI and DMV court proceedings, and we will work diligently on your behalf to help you keep your driving privileges. Don't face a DUI charge alone. Call us today at (503) 352-9360.
DUI Representation You Can Rely on
"I didn't know what I was going to do when I got pulled over after a Christmas party. Corbridge Law Offices helped me keep my license so I could keep working while I paid off my DUI fines." —Matt K.
"My license was suspended when I was accused of a DUI even though I hadn't had anything to drink. The team Corbridge Law Offices really listened to me and helped me get my license back, and eventually, all of my charges were cleared." —Stacy L.
Read more client testimonials.
Call Corbridge Law Offices Right Now at (503) 352-9360 to Defend Your License
At Corbridge Law Offices, we know it can be difficult to navigate DUI and DMV court proceedings. You need assistance from a legal team who will believe in you. We are also experienced in Other Vehicular Charges, Drug Offenses, and Criminal Offenses.
Anyone charged with a DUI in Oregon automatically has his or her license suspended, which can make it difficult to keep court dates and pay fines. If your license has been suspended because of a DUI or refusal of a breathalyzer or blood test, call us immediately. The Oregon DMV gives you a chance to schedule a special administrative hearing to dispute the suspension, but the request must be in writing within ten days of your arrest. The process of these hearings is very different than normal court proceedings, so don't face it alone. Call Corbridge Law Offices at (503) 352-9360 to speak with one of our experienced DUI and DMV attorneys.