A trusted diminished value assessment can help make sure you get appropriate compensation for damage. Even after repairs, subtle differences will impact the value of your vehicle. We have the experience to look out for your best interest. Call on Corbridge Law Offices, P.C. for support. Our attorneys are here to help.
Your Reliable Team for Assessments and Representation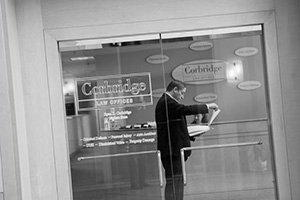 A lot of variables go into determining diminished value, and our legal team can make sure that the assessment comes from a trusted and reputable source. When additional information is needed to protect our clients, we get the job done.
"The best lawyer we ever had and the most caring." – HT
Since this may be the first time you've needed a diminished value assessment, we are more than happy to explain the process. When your vehicle has been repaired after an accident, there are three main situations in which there may be grounds for a diminished value claim:
– Inherent Diminished Value
Although a vehicle can often be repaired after a collision, it can't always be fully restored to its former condition. Original factory seals, robotically-applied finishes and coatings, and other manufacturing processes may not be replicable in any repair shop. The value of the vehicle may be lower simply because of irreplaceable logos or parts, or irreparable damage. Loss of warranty protection also falls under "inherent" diminished value.
– Insurance-Related Diminished Value
The lack of coverage for complete repairs may contribute to the lowering of the vehicle's value. Overlooked or neglected damage, mismatched colors, the use of inferior replacement parts, and a lack of replacement logos or decals may affect value.
– Repair-Related Diminished Value
Damage that is overlooked, undiscovered, or disregarded by the repair company contributes to diminished value as well. If blended tints don't match the original colors, or if there is kinetic damage that is not fully repaired, it can lower the overall value of the vehicle.
Trust the Team with Experience
We understand that being in an automobile accident is a frightening and upsetting experience. Corbridge Law Offices, P.C. will help you to understand the principles behind a diminished value property damage claim and provide you with advice throughout the process. We can assist you in getting quality repairs and in gathering the information you'll need to move forward with a diminished value case. If you decide to go forward, we can help you locate a third-party assessor who will help prepare a report. If your case is successful, you may be able to recover the difference between the vehicle's post-accident value and what it would have been worth if it hadn't been in an accident.
Call (503) 352-9360 for Help Today
Turn to Corbridge Law Offices, P.C. when you need a trusted diminished value assessment to support your claim. We will help guide you through the legal process and offer you strong representation in court. Contact us today to learn more about our services.